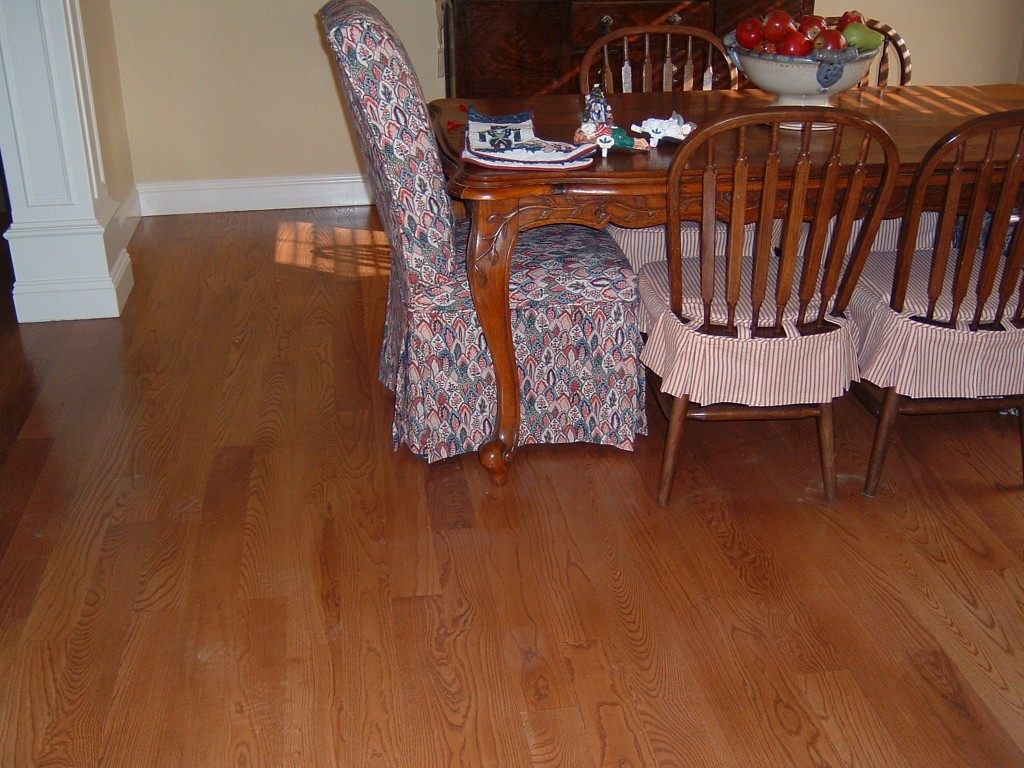 This is the old tried and true floor that has been around for over 100 years.  It's still the most popular floor that we do today.
This floor is a solid wood, full 3/4 of an inch thick, with a wear layer that is approximately 1/4 inch thick.   We install this floor by nailing directly to the sub-floor, after a layer of a special moisture barrier underlayment is installed.   We nail our floors approximately every 5-6 inches apart, which is double the recommended specifications.
The floor is normally installed after all the major wall  painting is done in a new home, and should be installed after the heating and/or cooling system has been turned on for at least 2 weeks.    This isn't always done on a new home, but it is still something to strive for.   Normally we install before all the interior doors are installed, but we can install with the doors in place. Baseboards can be down, if you use the large baseboards, and plan to use a base shoe (quarter-round)  If you don't plan to use a quarter-round, you must leave the baseboards off till right before the final coat of finish is applied.
We normally sand the floors after most all the trim work is complete, and just before the final touch-up.  On new construction, we sand, stain and seal, and apply the 2nd coat of finish, which we call the "build" coat.  This protects the floor for the final touch-up and trim out, but is not the very final coat.  We do this final coat right before the owners move in on the floor.  That way, the final coat of finish is not subject to heavy traffic, and lessens the chance of damage to the final coat of finish.
We use dust free sanding methods and equipment.   There will be very little dust when the floor is sanded.  There is normally more dust on the install than the sand and finish because the floor will come with some dust that is present from the factory environment.  Most of our clients are shocked how little dust there is when we sand/finish.   Some put up plastic, even though this isn't really necessary, and find after we're finish that they didn't need the plastic.
After the floor is installed, we have a guide with information how to protect the floor before it is sanded and finished and what to watch out for as the rest of the home is under construction.  You can download this guide, which is in PDF form, here.
Our Native Floor Species and Grades
Click on the pictures below for a slide show