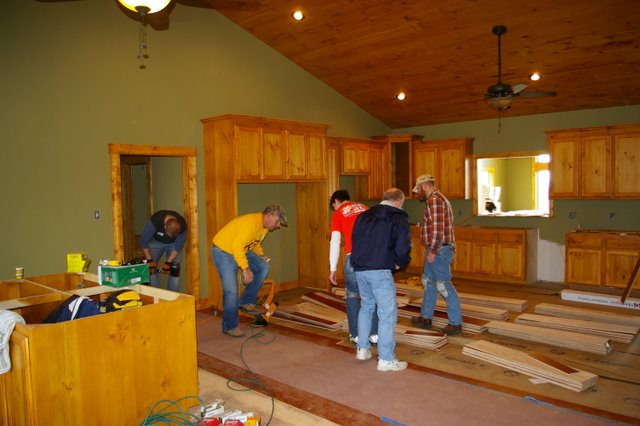 Installation of a Pre-Finished, hand scraped wide plank engineered floor at Renewal Ranch, a service and outreach center to help men break addiction at Conway, Arkansas.
We were contacted by one of the regular builders that we normally work for in Conway, Arkansas about helping at a work day at a very worthwhile organization.   Renewal Ranch is an organization which helps men try to break the cycle of drug and alcohol addiction.   With donations and lots of volunteer help, they have succeeded in raising the funds to secure a very nice piece of property outside of Conway and have constructed the first of several planned homes that will be used to help in this effort.
Home Depot had graciously donated about $10,000 worth of pre-finished hardwood floor for the project, and had also donated a "work day" for about 25-30 of their employees to help install the floor in the facility.   Most of these employees didn't have any hardwood  flooring installation experience, and the builder recommended us to come down and oversee the workday, and finish up the project after the workday was done.   There was a very good turnout for the work day, and even with a lot of volunteer help, quite a bit of floor got installed on the work day, and good food and fellowship was had by all.
This project is now finished and being used by Renewal Ranch, and hopefully with further donations, more can be completed in the future.   For more information about Renewal Ranch or to help their worthwhile cause, you can go to their website at therenewalranch.org