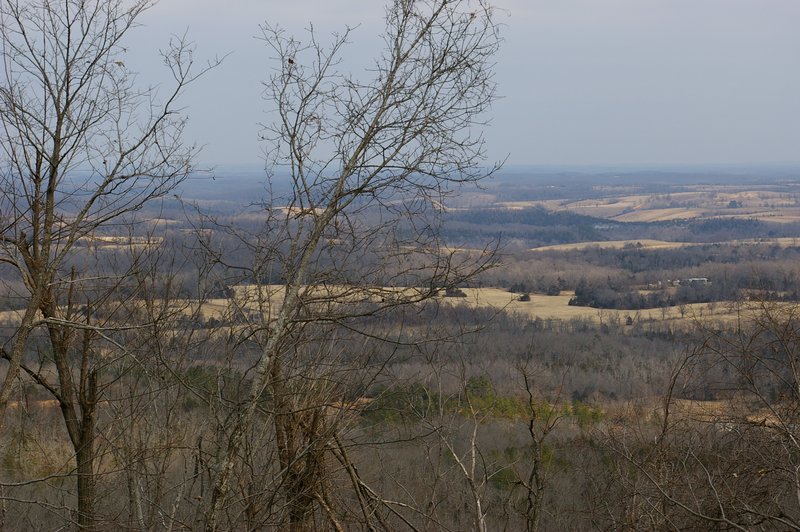 10 Acres with an Incredible View less than 1 mile from the Buffalo National River and  the Gene Rush Wildlife Management Area. The Arkansas Game and Fish recently bought 3000 acres near this area for $3,400 per acre.
Very secluded area (no close neighbors) and the land around the 10 acres is undeveloped woodland, so you've got the wilderness to yourself. Great area to ride horses or 4 wheelers. Deer, Turkey, Black Bear and Elk are numerous. This is a great hunting area.  Small, very rustic one room cabin on the property, which could be used for a hunting camp, or we could build to suit a Log Cabin on the property. The rustic cabin is not currently livable, but is solid and could be fixed up with a little work.   The view has to be seen to be appreciated as you can see for 30 miles.
There is no water or electric on the property.  You would have to drill a well for water.  Electric line is approximately 1/2 mile from the property, so it is not too far away. The nearest neighbor is about 1/2 mile away.
I would describe the road to the property as only "semi-maintained".  Not graded regularly, so 4 wheel drive vehicles would be best.
There is quite a bit of timber on the property, especially hickory, but the tops of a lot of the trees were damaged in the ice storm a couple winters ago.
This is truly a piece of property for someone who wants a get away place in the ozarks for camping or hunting.   Would be a great place to build a rustic cabin or a "doomsday bunker"!!  :)
Price:  $25,000