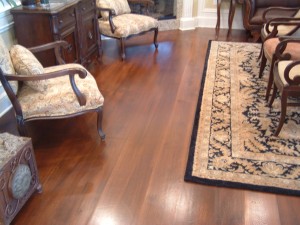 Hello, my name is Lee Walsh, President and Founder of Ozark Hardwood Flooring.
We started into the wood flooring business by necessity.  Our history began in Eureka Springs,  Arkansas, where we built custom Log Homes from 1984 to 1994.    We started installing and finishing the hardwood floors in the Log Homes we built,  because we couldn't find a flooring company that could do a quality job for a fair price.  We did our first hardwood floor in 1986, on a Log Home Construction Project.
Ozark Hardwood was founded in 1994 originally as Lee's Custom Wood Flooring.  In 1998, our name was changed to Ozark Hardwood Flooring.
From these humble beginnings, Ozark Hardwood flooring has grown each and every year.  We now install, finish and refinish in excess of 100,000 SQFT of beautiful hardwood floors every year in Central and North Arkansas, and Southwest Missouri.
We specialize in wide plank REAL  hardwood Floors.  Installed unfinished and dust free sanded on the job.  We do also do a good  amount of pre-finished hardwood,  but no laminates are found here.
We continue to expand our business, and in 2007 we opened a new office and shop location.  We have also expanded into the rustic—Hand scraped floors, as demand for these floors are increasing rapidly. We also do Prefinished Stair Treads and Risers and average about 25-30 Staircases per year.
Refinishing comprises about 5-10% of our business, and we get about 75% of our business from referrals from satisfied customers.
We use the finest "dust free" sanding equipment,  and top of the line finish systems.   We provide quality products and superior service to demanding builder schedules and discriminating home owners everyday.
We are covered by workers compensation insurance, and we also carry General Liability Insurance to protect your property.
Check out our website. Look at the pictures of beautiful floors in fine custom homes.  Then contact us for a no obligation price quote.  We will be glad to travel to your home, discuss the many options that real wood floors provide, and give you an exact price on your project.
And finally, Please don't wait till the last minute to contact us.  We are normally booked at least 3-6  weeks in advance.
Thanks for Visiting our site,
Lee Walsh  — Founder, President and CEO.
Julie Walsh — Vice President, Secretary.
Jason Yarbrough — Project Manager,  Installer, Sand and Finish
Ethan Walsh – Installer, Sand and Finish
Elliot Calhoun – Installer, Sand and Finish